Pentair - 147411 SMBW 4060 SMBW 4000 Series 58 sq ft D.E. Pool Filter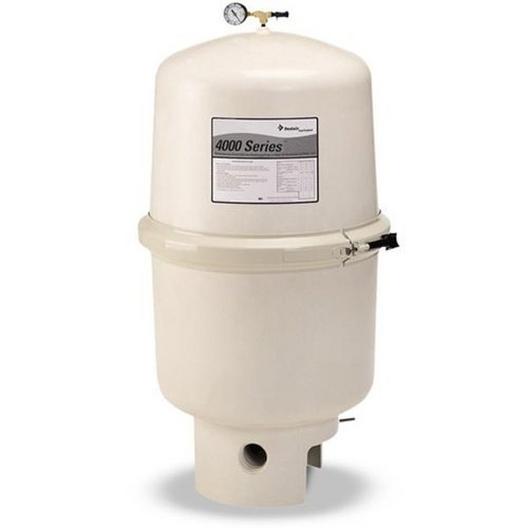 The Pentair 147411 SMBW 4060 SMBW 4000 Series 58 sq ft D.E. Pool Filter is designed with a fiberglass-reinforced polypropylene tank that enhances durability. More Details
---
Description
The Pentair 147411 SMBW 4060 SMBW 4000 Series 58 sq ft D.E. Pool Filter is designed with a fiberglass-reinforced polypropylene tank that enhances durability.
Valve included
Unique Spiro-Mite curved grid design ensures an even flow and uniform distribution of D.E. for optimum filtration efficiency
Corrosion-resistant 20" diameter fiberglass filter tank is strong, durable and made to last for years
Filter's refined internal design minimizes flow restrictions so that the least amount of pumping power produces the maximum required flow rates
Thermoplastic backwash rotor seal is specially engineered to prevent dirt from entering the rotor chamber for smoother, trouble-free operation
Corrosion-resistant 20" diameter fiberglass filter tank for strength and durability
Unique Spiro-Mite grid design provides high efficiency filtration and longer filter cycles
Exclusive clamp ring design is proven to be safe, strong and reliable. It allows for quick and easy access to internal components
Durable backwash valve is unaffected by heat and cold, ensuring flawless operation under all conditions
2" plumbing connections provide maximum flow
Maximum Operating Pressure 50 psi
Individually-removable grids for easy cleaning
California Residents WARNING: Cancer and Reproductive Harm - www.P65Warnings.ca.gov
---
Details
The Pentair 147411 SMBW 4060 SMBW 4000 Series 58 sq ft D.E. Pool Filter provides the highest level of filtration. The 4060 SMBW is capable of filtering out particulate as small as 5 microns. That's the same size as a human red blood cell.
The 147411 SMBW 4060 uses a set or grids coated in pool grade diatomaceous earth. The set of grids consists of 8 full grids 30" in length which makes this D.E. filter different from others. The 4060 SMBW tank is made with fiberglass-reinforced polypropylene that enhances durability and product life.
Another difference with this D.E. filter is it uses a Noryl rotary backwash valve and is included inside the filter. Most other D.E. filters do not come with a valve but the 4060 SMBW has a built in backwash valve for ease of use. It also comes with a steel tension control clamp rests that securely around the tank and a brass barrel nut securely fastens each half tightly together. To remove the 147411 SMBW 4060 requires a minimum of 58" vertical clearance. Before removing the dome lid, it is suggested to backwash the filter to discharge the contaminated DE powder.
Common Questions:
What are the dimensions of the tank?
Tank Dimensions: (DxH) 21.5" x 49"
Weight: 109 lbs
How much DE do I add?
The 147411 SMBW 4060 uses 6 lbs of DE.
What is the max GPM flow rate?
The max GPM flow rate is 116 GPM.
Does the 147411 SMBW 4060 come with a backwash valve?
Yes, the 147411 SMBW 4060 does include a backwash valve built in the filter.
What is the warranty for the SMBW 4060?
The SMBW 4060 carries a manufacturer warranty for 60 days if installed by a non professional or a 1 year warranty if installed by a professional.
---
Highlights

D.E. Filter systems cut energy costs by using lower pump pressure and speeds. If properly taken care of and rinsed regularly, they can significantly reduce water use. In addition to cost savings, lower pump pressure can help prolong the life of your pool pump!

A D.E. Filter maximizes the useful filtration area. A larger filtration area means longer periods between each cleaning, saving you time on pool maintenance and giving you more time to relax and enjoy your pool.

D.E. is a natural substance that captures dust, dirt and debris as small as 5 microns. A D.E. filter system removes body oils, suntan lotions, pollens, dust, and even some bacteria, making your swimming pool a healthier environment.
---
Specs
| | |
| --- | --- |
| Pool Type: | In Ground |
| Installation Type: | Residential |
| Product Type: | Pool Filter |
| Filter Type: | Diatomaceous Earth |
| Eco-Friendly: | Yes |
| Manufacturer: | Pentair |
| Warranty: | 60-Day |
---
---
Warranty
Sixty Day Warranty, see Owner's Manual for a full description of warranty claims and coverage details.