Raypak - Millivolt Cast Iron ASME Natural Gas 266,000 BTU Pool Heater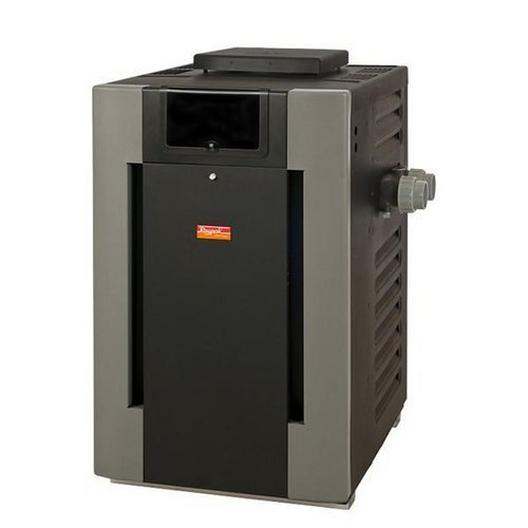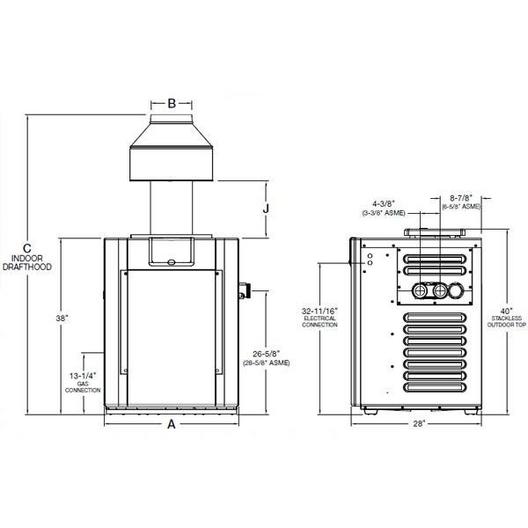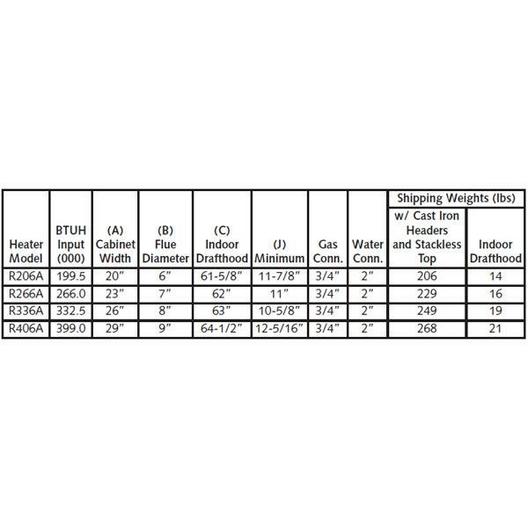 Raypak ASME Millivolt 266,000 BTU Natural Gas Commercial Pool Heater, 0-2,000' Elevation, C-R266A-MN-C #50, 009245 More Details

Subscription Available
Standard Shipping
- Ship To Home
---
Description
Raypak ASME Millivolt 266,000 BTU Natural Gas Commercial Pool Heater, 0-2,000' Elevation, C-R266A-MN-C #50, 009245
Part Number: 009245
Model Number: C-R266A-MN-C
2" glass-lined Cast Iron headers
Unitherm Plus eliminates condensation
Small footprint
High-wind reliability
125# pressure relief valve
ANSI Z21.56 design certified
Model Number: C-R266A-MN-C #50
0-2,000' Elevation
---
Details
ASME rated heaters are intended for use when local codes mandate the use of ASME-certified equipment in commercial installations, such as apartment, condominium and public pools and spas. Millivolt heaters are standing pilot gas heaters with mechanical thermostats and Polymer headers. The Raypak commercial digital heater is factory equipped with ASME waterways for commercial use and comes with a microprocessor based thermostat control. This allows the user to set the pool or spa temperature at a precise temperature using the up or down button. The digital display provides a constant reading of the pool's water temperature.

---
Highlights

The Raypak Millivolt gas heater comes with one mechanical thermostat. This control allows you to set your swimming pool or spa temperature precisely at your favorite setting.

The Raypak Millivolt has the best outdoor design in the market today. No need for fans to combat drafting problems, the Raypak Millivolt was designed for outdoor installations with its exclusive low profile design. It is so thoughtfully and carefully designed it actually protects itself from the things that tend to stifle ordinary pool and spa heaters: falling leaves, wind, airborne debris, rain, downdrafts, updrafts, sleet, snow, etc.

One look will tell you that the Raypak Millivolt is different. The look is contemporary; the design is advanced, and inside and out it's engineered to last. The attractive forest green and charcoal gray panels complement the latest pool and spa equipment designs. Raypak's original "pagoda top" design will keep the heater operating even in extreme wind conditions and downdrafts.

All Raypak Millivolt gas heaters come standard withintegral copper finned tube. This means that the fin tubing is made from one piece of extruded copper tube. Since the fins are integral to the tube, maximum heat transfer is attained. Every Raypak Millivolt has the same robust design tube bundle that we use in our large gas commercial boilers.
---
Specs
| | |
| --- | --- |
| Product Type: | Pool Heater |
| Heat Exchanger: | Copper |
| Ignition: | Millivolt |
| Pool Type: | In Ground |
| Fuel Type: | Natural Gas |
| Emission: | Standard |
| Installation Type: | Commercial (ASME) |
| Elevation: | 0 - 2,000 ft |
| Controls: | Analog |
| Heat Output: | 266,000 BTU |
| Manufacturer: | Raypak |
| Warranty: | 1-Year |
| Model Number: | C-R266A-MN-C |
---
Warranty
One (1) Year Limited Warranty on Product, see Owner's Manual for a full description of warranty claims and coverage details.