All-In-One Above Ground Pool Kits
Save big and find everything you need when shopping our pre-bundled above ground pool kits! PoolSupplyWorld offers the best-selling Oceania Weekender packages to help customers save money and time before the swimming season. No matter which above ground pool package you choose, get ready for years of fun! These kits include everything you need to get started - pool wall, rails and uprights, vinyl liner, ladder, skimmer, and filter system. Just add water!
Customizable Above Ground Pool Kits
Shop from our large selection of customizable above ground swimming pools to tailor-fit any backyard and budget. Whether you're looking for an easy-to-maintain chlorine pool or salt water-ready pool, you'll find affordable packages in every shape and size. All customizable above ground pool kits are delivered with everything you need to build the ultimate backyard paradise! If you are looking for a durable and attractive above ground pool, look no further. Shop our selection of base, premium and custom kits from the leading manufacturers - Sharkline and Lomart Above Ground Pools. Our custom above ground pool packages will allow you to choose your favorite vinyl liner, liner accessories, filter and pump combo, ladder, cleaner, pool cover and more! And the best news - every swimming pool includes Ships Fast!
Lomart Montessa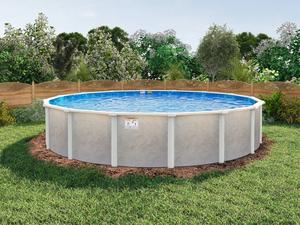 Steel Top Rails and Uprights
52" Steel Walls
Salt Water Friendly
20 Year Limited Warranty
Starting at

$1,089.99
Lomart Verona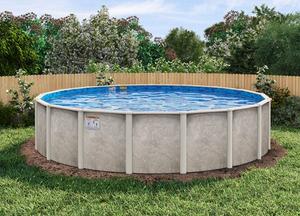 Resin Top Rails and Uprights
54" Resin Walls
Salt Water Friendly
25 Year Limited Warranty
Starting at

$779.99
Customizable Semi-Inground Pools
Add some luxury and fun to your backyard with the Sharkline Excursion Above Ground Pool! The Excursion is a lower profile swimming pool - perfect to use as a semi-inground pool. This pool is also salt-water compatible for those who want a more eco-friendly and cost-efficient swimming pool. Its low profile design features the option to install a wrap around deck or being partially buried in the ground. The Excursion is an all-aluminum slat wall pool with high 54 pool walls. Its top ledge is seven inches with six inch uprights for added stability and safety. Create an entertaining space in your own backyard with the Sharkline Excursion Above Ground Swimming Pool!
Comparison Chart
MODEL NAME
FRAME MATERIAL
WALL HEIGHT
TOP RAIL WIDTH
UPRIGHT WIDTH
NO BUTTRESS
SALT FRIENDLY
LIMITED WARRANTY
GOOD
Weekender
Steel
48"
6"
5"
20 YEAR
Reprieve
Steel
48" / 52"
6"
4.5"
30 YEAR
Weekender Deluxe
Steel
52"
7"
6"
20 YEAR
BETTER
Montessa
Steel
52"
6"
6"
20 YEAR
Heritage
Steel
52" / 54"
7"
6.5"
60 YEAR
Venture
Resin / Steel
52" / 54"
7"
6"
50 YEAR
Weekender Signature
Resin / Steel
52"
8"
6"
25 YEAR
BEST
Verona
Resin
54"
8"
7"
20 YEAR
Matrix
Resin
54"
7"
6"
60 YEAR
Excursion
Aluminum
54"
7"
7"
60 YEAR
Shop Above Ground Pool Accessories