PoolSupplyWorld - Cal-Hypo Super Strength Pool Shock Bags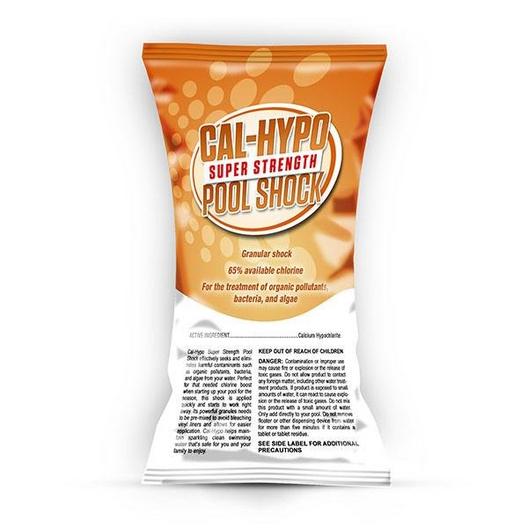 Cal-Hypo Super Strength Pool Shock is 68% cal-hypo and 65% available chlorine. Sanitizes organic contaminants, bacteria, and algae. More Details

Subscription Available
Standard Shipping
- Ship To Home.
---
Description
Cal-Hypo Super Strength Pool Shock is 68% cal-hypo and 65% available chlorine. Sanitizes organic contaminants, bacteria, and algae.
Includes one 1 lb. package
Granular shock
65% available chlorine
Active ingredient: calcium hypochlorite
For the treatment of organic pollutants, bacteria, and algae
Dosage: 1lb. for every 10,000 gallons
---
Details
Cal-Hypo Super Strength Pool Shock effectively eliminates harmful contaminants such as non-living organic waste, bacteria, and algae from your water. Perfect for that needed chlorine boost when starting up your pool for the season, this shock is applied quickly and starts to work right away. Cal-Hypo helps maintain sparkling clean swimming water that's safe for you and your family to enjoy.
Store Cal Hypo shock away from other pool chemicals as it can be hazardous if it comes into contact with them.
Dosage: 1lb. for every 10,000 gallons.
---
Highlights

Cal-Hypo ZAP is ideal for spring openings and for battling stubborn algae blooms. Additionally, we recommend shocking your pool water weekly during peak swimming season to destroy bacteria, algae, and organic waste that regular chlorination may have missed. You'll always feel sure that your water is safe and ready to be enjoyed.

Cal-Hypo ZAP Super Strength Pool Shock can take your pool or spa water from cloudy to sparkling clear in no time. These convenient, pre-measured packages are easy to store and easy to use, so you'll always be sure you get the right dosage for your needs.
---
Specs
| | |
| --- | --- |
| Active Ingredient: | Calcium Hypochlorite |
| Container Size: | Bucket: 1 - 5 lb |
| Chemical Size: | Granular |
| Specialty: | Shock |
| Product Type: | Pool Chemical |
| Chemical Type: | Shock |
| Manufacturer: | PoolSupplyWorld |