LayorCare - Cal Block 2.5 Gallon Jug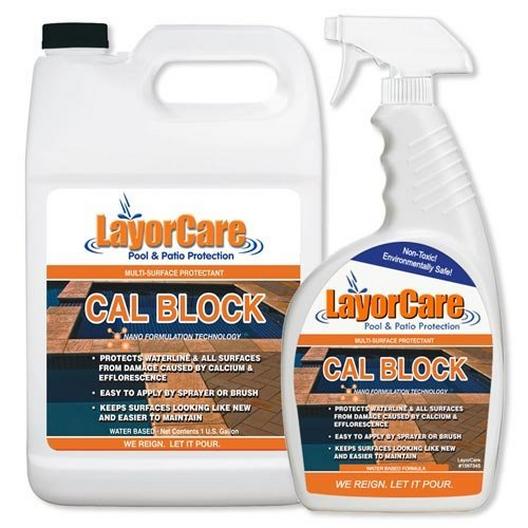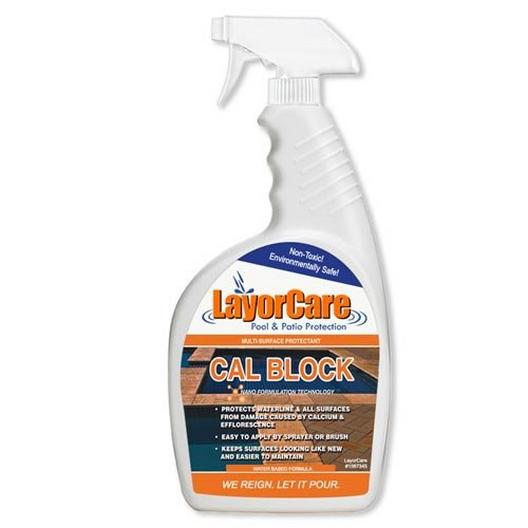 The LayorCare Cal Block Multi-Surface Protectant powerfully protects your pool's waterline and all surfaces from damage caused by Calcium and Efflorescence build-up. This safe, non-toxic formula fights against hard scale and keeps your pool's surface looking like new. Environmentally safe and non-toxic, the LayorCare Block Multi-Surface Protectant takes minutes to apply to tile, porcelain, glass, concrete, pavers, and rock features and protects all surfaces for months. More Details

Subscription Available
Standard Shipping
- Ship To Home
---
Description
The LayorCare Cal Block Multi-Surface Protectant powerfully protects your pool's waterline and all surfaces from damage caused by Calcium and Efflorescence build-up. This safe, non-toxic formula fights against hard scale and keeps your pool's surface looking like new. Environmentally safe and non-toxic, the LayorCare Block Multi-Surface Protectant takes minutes to apply to tile, porcelain, glass, concrete, pavers, and rock features and protects all surfaces for months.
Suitable for pool tile, rock features, concrete, glass, and other surfaces.
Apply every 3 to 6 months to reduce Calcium and Efflorescence build-up.
Nano Formulated Technology is safe, non-toxic, and invisible.
Easy application on all surfaces.
Environmentally Safe and Non-Toxic.
Keeps surfaces looking like new and easier to clean.
Covers 1,000 to 1,300 square feet per gallon
---
Details
For the ultimate in protection for your pool tiles or other materials surrounding your pool, Cal Block is the best solution for you!
CAL BLOCK - Is a safe, non-toxic, invisible, NANO FORMULATION, multi-surface protectant that is specifically formulated to block calcium and hard scale from building up on your pool tiles and water features, allowing future calcium to be easily removed off any treated surface. The product can be easily applied to glass, porcelain and ceramic pool tile, concrete, rock features, travertine and concrete pavers, metal and more. Apply every 3-6 months to greatly reduce calciumandefflorescence build-up and to make maintenance and future calcium cleanings easy!
Cal Block is able to cover around 1,000-1,300 square feet per gallon.
Protects waterlineandall surfaces from damage caused by calciumandefflorescence
Protection against hard scale, calcium and efflorescence buildup
Make treated surfaces very easy to clean in the future
Use a protectant that's both non-toxic and environmentally safe
Keeps surfaces looking like new and easier to maintain
Easily apply a protectant that only takes minutes and lasts for months
Easy to apply by sprayer or brush