Pentair - TR100 Triton II 30" Side Mount Sand In Ground Pool Filter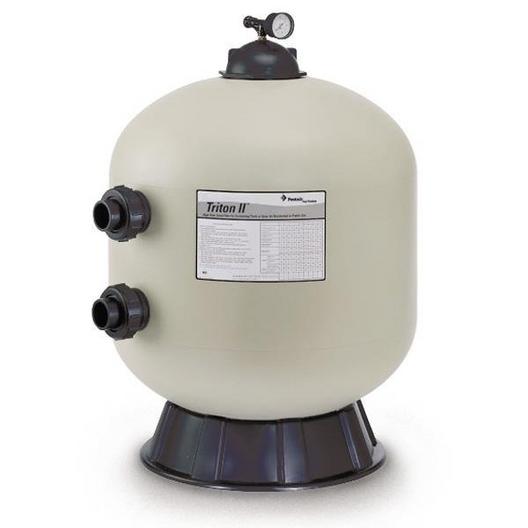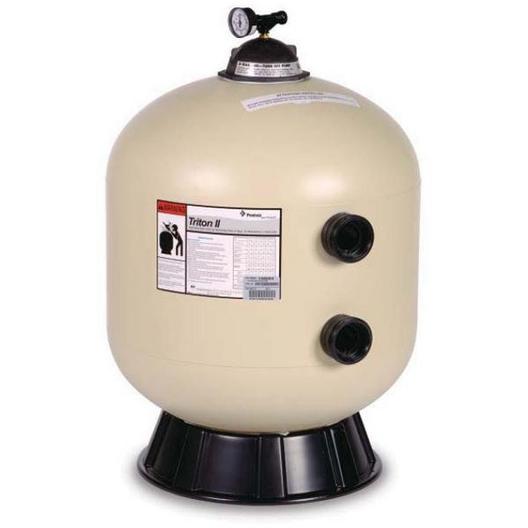 The Pentair TR100 Triton II 30" Sand Filter 140210 features a durable fiberglass-reinforced tank with one-piece construction, providing many years of use. More Details
---
Description
The Pentair TR100 Triton II 30" Sand Filter 140210 features a durable fiberglass-reinforced tank with one-piece construction, providing many years of use.
Valve sold seperately
Compatible with valves: 261173, 261049, 261050, 261055, 263064
Heavy-duty closure provides easy inspection, and features an easy-to-read pressure gauge with air relief valve
Swing-away diffuser allows instant access to sand and all internal parts
All internal parts are threaded for ease of service
Requires 600 lbs of sand
Internal air bleed
Bulkhead connectors are threaded for easy installation and service
Combination sand and water drain makes servicing and winterizing fast and easy
Maximum Operating Pressure 50 psi
Time-proven internal design ensures that all water receives maximum filtration for crystal clear results
GlasLok process creates a one-piece, fiberglass reinforced tank with a UV-resistant coating for years of dependable, corrosion-resistant service
Flow system design controls filtration quality and ensures maximum run times between backwashing to save you time
---
Details
The Pentair 140210 Triton II TR100 Sand Filter has a 30" tank diameter that requires 600 lbs of sand for operation used on in ground pools. The Pentair Triton II TR100 Sand Filter includes all the laterals inside the tank, filter tank base, lid closure, air relief valve, and pressure gauge. This sand filter requires the use of a side mount multi-port or push-pull backwash valve.
The Triton II has a durable fiberglass-reinforced tank with one-piece construction. This feature enhances durability and product life. The Pentair TR100, like other sand filters, offers the least amount of maintenance compared to other filter types. This sand filter is capable of filtering down to 20-40 microns.
The #1 sand filter in the world, Triton II Side Mount Filters are the result of nearly 50 years of product evolution and refinement. It has set the industry standard for effectiveness, efficiency, long runs between service, and providing years of dependable, low maintenance operation.
Note:
Valve is not included with filter.
Common Questions:
What are the dimensions of the tank?
Tank Dimensions: (DxH) 30.5" x 39.5"
Weight: 65 lbs without sand.
How much sand do I add?
The Pentair TR100 uses 600 lbs of sand.
What is the GPM flow rate?
The GPM flow rate is 74 GPM.
What does 140210 Triton II TR100 come with?
The 140210 TR100 comes with the tank, all the laterals inside the tank, filter tank base, lid closure, air relief valve, and pressure gauge.
Does the Triton II TR100 come with a backwash valve?
No, the TR100 does not come with a backwash valve. Depending on the plumbing size on property, we suggest item number 261055 for 2" and 261173 for 1.5" plumbing for multi-port installations. For side mount push-pull valve installation, we suggest item number 263064.
What is the warranty for the Pentair Triton II TR100?
The TR100 carries a manufacturer warranty of 60 day if installed by a non professional or a 1 year warranty if installed by a professional.
California Residents WARNING: Cancer and Reproductive Harm - www.P65Warnings.ca.gov
---
Highlights
Save time and energy by using a Sand Filter! Sand filters require only basic backwashing maintenance to keep them running well, leaving you more time to sit back and enjoy your clean pool.

Sand Filters capture dirt and debris in the tiny gaps between sand particles. As the space between the particles fills up, water pressure builds. Cleaning the filter is as easy as switching the water flow and backwashing the debris safely out of the pool and filter. Sand should be replaced every 5-8 years.
---
Specs
| | |
| --- | --- |
| Pool Type: | In Ground |
| Product Type: | Pool Filter |
| Filter Type: | Sand |
| Filter Diameter: | 30 in |
| Installation Type: | Residential |
| Manufacturer: | Pentair |
| Filtration Area: | 4.91 sq ft |
| Warranty: | 1-Year |
---
---
Warranty
One (1) Year Warranty if Installed by Pool Professional, Sixty (60) Day Warranty if Installed by Non-Professional, see Owner's Manual for a full description of warranty claims and coverage details.