Pool Safety Covers
The strongest, fastest, most reliable pool protection!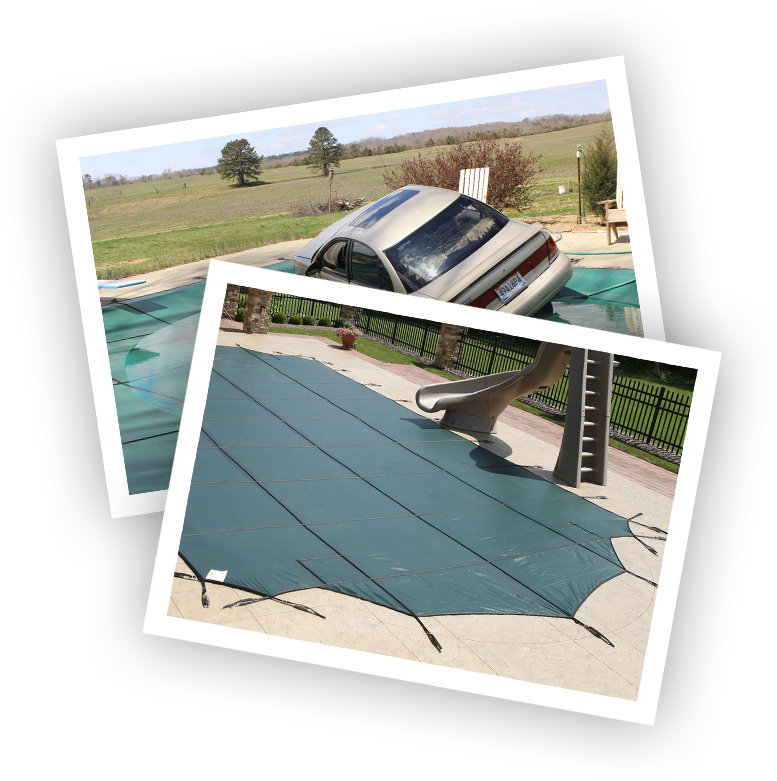 Features
Safeguard Pets & Children
Secure Fit - No Submersion
Keep Your Swimming Pool Protected!
Keep your in-ground swimming pool protected from accidental entry while keeping it clear of dirt and debris this winter season with a Pool Safety Cover. Within our large collection of PolarShield, Arctic Armor, Merlin, and HPI AquaMaster Safety Covers, we offer a variety of different shapes, sizes, and colors to fit the need of each customer. We also have a Custom Pool Safety Cover option for those with unmatched pool shapes.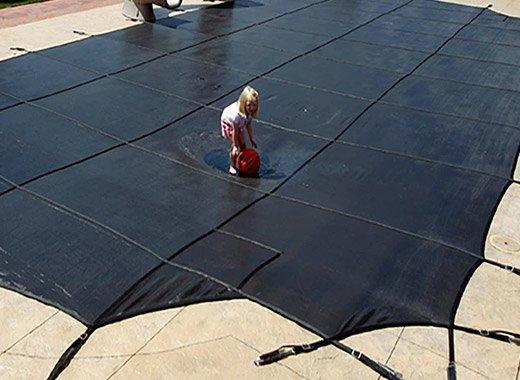 Why Buy A Pool Safety Cover?
Safety Covers help to protect and safeguard your swimming pool from accidental entry while protecting your pool and its equipment during the off-season. You can save time and effort when opening and closing your swimming pool by simply keeping it covered during the harsh months of winter. Pool Safety Covers are an affordable option that saves you money in the long run by keeping your pool and its equipment safe from dirt and debris, thus extending the lifespan of your equipment.
Heavy Duty Design
These Safety Covers are constructed with reinforced straps that run on the top and bottom of each seam, creating a grid pattern for maximum strength. Our Pool Safety Covers provide a tight seal over the swimming pool by locking to brass deck anchors around the perimeter. Safety Covers are quality checked and signed before the final packaging to ensure that your swimming pool is properly protected. Enjoy some peace of mind this winter season with a high-quality Safety Cover for your swimming pool.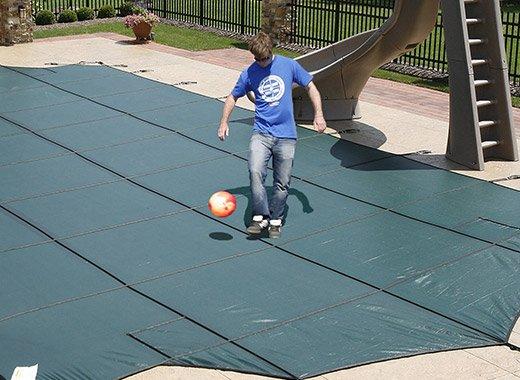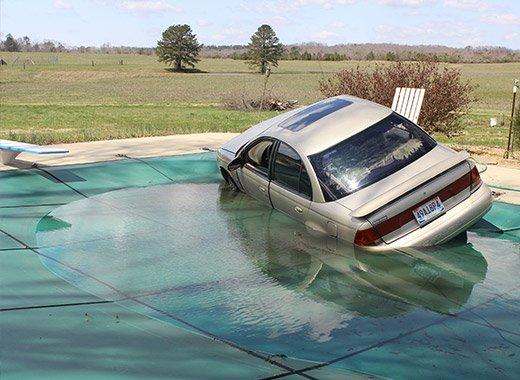 Durable Mesh Material
Constructed with a strong mesh material, Safety Covers are able to resist rot, mildew, sunlight, weather conditions, and harsh chemical damage. Being a tight mesh, these Safety Covers have a break-strength of over 4,000 pounds. They're held in place by brass anchors while the mesh cover is in use. Designed to be held sturdily in place and withstand enormous weights, you'll never regret purchasing a Safety Cover for your swimming pool. Protect your pool during the off-season with a heavy duty, durably strong, and affordable Safety Cover from PolarShield, Arctic Armor, Merlin, or HPI AquaMaster! Search through our wide selection of shapes, sizes, and color options to suit the needs of your swimming pool. If you can't find the perfect fit, please feel free to contact us or for a Custom Safety Cover quote. Make your backyard a safe place to play during the off-season by purchasing a Pool Safety Cover.