Sta-Rite - System:2 Modular D.E. Series 36 sq. ft. In Ground Pool Filter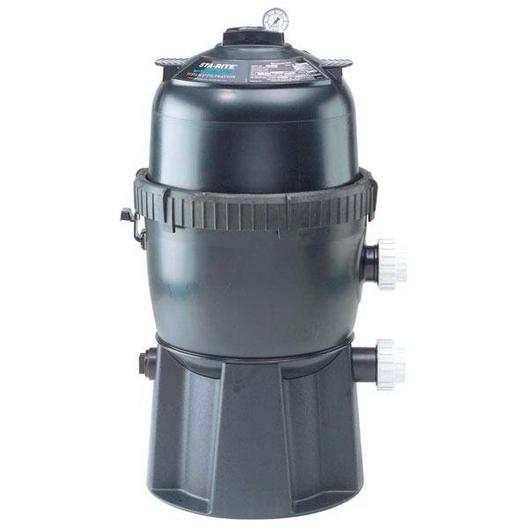 Sta-Rite delivers the unique benefits of D.E. filtration in a variation of their proven modular media technology More Details
This item is currently not available
---
Description
Sta-Rite delivers the unique benefits of D.E. filtration in a variation of their proven modular media technology
Valve sold seperately
Valve sold seperately
Compatible with valves: 18202-0250 (1.5" ABS 6-Position), 18201-0300 (2" ABS 6-Position), 263053 (Push Pull 7.81")
Typical Installations - in-ground pools and in-ground hot tubs
Quality Construction - Durable two-piece tank housing constructed of rugged ABS thermoplastic to ensure a long-lasting tank life
Easy Access - Posi-Ring closure provides safe, fast access to tank internals
Patented Design - The innovative balanced flow design - first introduced with the System:3 Mod Media filter is now available in the smaller System:2 filter. Virtually maintenance-free operation for pools of all sizes
A perfect Fit - The small diameter footprint makes the System:2 filter a perfect fit for new and retrofit installations
Modular Filter Tanks - Allows for quick change of filter medias without changing the tank
---
Details
Sta-Rite delivers the unique benefits of D.E. filtration in a variation of their proven modular media technology. A single replaceable grid delivers water of superior quality without the complex workings of other D.E. filters. This innovative one-piece design is fully back-washable and can be plumbed with or without a backwash valve. 2 in. union valves are included for installations electing not to use a backwash valve. For dip-down cleaning, simply remove the filter lid and hose off in place. No more hassle of tearing down the grid assembly for cleaning and servicing. Contemporary style and matte black finish looks attractive in any pool setting.
---
Highlights

D.E. Filter systems cut energy costs by using lower pump pressure and speeds. If properly taken care of and rinsed regularly, they can significantly reduce water use. In addition to cost savings, lower pump pressure can help prolong the life of your pool pump!

D.E. is a natural substance that captures dust, dirt and debris as small as 5 microns. A D.E. filter system removes body oils, suntan lotions, pollens, dust, and even some bacteria, making your swimming pool a healthier environment.

A D.E. Filter maximizes the useful filtration area. A larger filtration area means longer periods between each cleaning, saving you time on pool maintenance and giving you more time to relax and enjoy your pool.
---
Specs
| | |
| --- | --- |
| Pool Type: | In Ground |
| Installation Type: | Residential |
| Filtration Area: | 36 sq ft |
| Product Type: | Pool Filter |
| Filter Type: | Diatomaceous Earth |
| Manufacturer: | Sta-Rite |
| Warranty: | 60-Day |
---
Warranty
Sixty Day Warranty, see Owner's Manual for a full description of warranty claims and coverage details.