Pool Parts Online is moving to PoolSupplyWorld!
We're moving! New site, more products, same great service!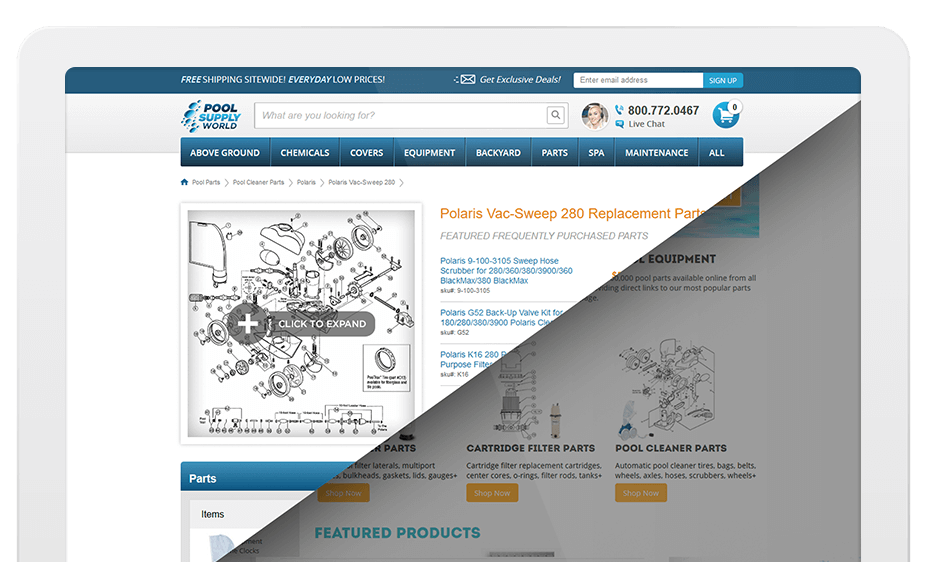 In an effort to provide our customers with the largest pool parts selection, highest quality products, lowest prices and best-in-class customer service, Pool Parts Online is pleased to announce our new partnership with PoolSupplyWorld.
Pool Parts Online was first launched in 2004 as the internet division for a respected pool service and repair company. Over the years, our online selection has grown to include thousands of parts, equipment and maintenance products from the pool and spa industry's most popular brands. PoolSupplyWorld also has a strong track record of success. Soon after launching in 2007, PoolSupplyWorld quickly made a name for itself as the leading online source for pool supplies, which they accomplished by offering low prices, great product selection and superior service to their customers.
Our Pool Parts Online customers have always been our number one priority, and we would not be where we are today without every single one of you. As we move forward in this exciting new chapter of our business, your satisfaction continues to be of utmost importance to all of us at Pool Parts Online and PoolSupplyWorld. We aim to make this move as smooth as possible for all our loyal customers. Below, we'll address some of the most frequently asked questions about our partnership with PoolSupplyWorld.
I Have Questions About My Order. Who Should I Contact?
You can still reach Pool Parts Online by sending an email to [email protected]. You can also contact PoolSupplyWorld directly by calling 800-772-0467 or emailing [email protected]. Please have your order number ready, and be sure to specify that the order was placed through Pool Parts Online.
Will My Account Data Be Transferred?
Individual account data will not be transferred. All details for previous, ongoing or outstanding orders will be available to PoolSupplyWorld to help with order fulfillment and customer satisfaction. Existing Pool Parts Online customers can sign up for a new account through PoolSupplyWorld at www.poolsupplyworld.com. Signup is free, and allows you to unlock benefits like free shipping on your order. When you sign up for the PoolSupplyWorld newsletter, you'll be the first to know about product discounts and promotions on the site, and you'll also receive $10 off your next order of $150 or more.
Will My Warranty Transfer?
The manufacturer's warranty will not be affected by this move. If you have questions about warranty coverage for the product you purchased, please refer to the owner's manual or contact the manufacturer directly.
What About Product Returns?
If you need to return your purchase, please refer to PoolSupplyWorld's Return Policy for instructions and limitations. This policy is consistent with the Pool Parts Online return policy. Before an item can be returned or a refund can be issued, you must complete a Return Merchandise Authorization (RMA) form. When sending your request, include your order number and specify that the order was placed through Pool Parts Online. Once the form is submitted, a member of the customer support team will reach out to you with further instructions.
Can I Still Buy Products From Pool Parts Online?
No. Going forward, you will only be able to purchase parts, equipment and other pool products from PoolSupplyWorld. To start taking advantage of the amazing deals available, shop today at www.poolsupplyworld.com.
I Can't Find the Item I Need on PoolSupplyWorld. What Are My Options?
If you can't find the product you're looking for, please reach out to [email protected] for assistance. If we don't carry the item in our own warehouses, in most cases we'll be able to get the item directly from the manufacturer. In the event that an item has been discontinued, we'll do our best to help you find an alternative. The health of your pool is important to us!